Jennifer Maddox
Dear

Concerned

Residents,
Let me take this opportunity to introduce myself to you. I am a mother, grandmother, retired police officer and community contributor. I want to work for you as Alderperson to transform our Ward.
What does the future hold for our ward? For too long, it has been a place of division and despair, but it doesn't have to be this way. With the right leadership, our ward can be a place of hope and opportunity for all.
We share concerns about the actionable issues to improve our community. Crime, housing, education, and investment are all key issues that need to be addressed in order to make our community a better place
Education
Jennifer Maddox was currently elected to the LSC for Fiske Elementary this year. She will work diligently with the council to build the schools capacity and attendance to regain funding for upcoming years.
Housing
Public Safety
As a recently retired Chicago Police Officer, Jennifer is well aware of the challenges with crime across our city. It is her hopes to get more community members involved and elected to the New Police Council. Here is some information regarding the process, particularly pages 7 & 9.
Economic Development
Why is Economic development important for the 20th ward?
In order for any community to survive, its citizens must have employment opportunities, and its government must be able to generate revenue to provide services. Economic development, if done effectively, works to retain and grow jobs and investment within a community. The tax base that is created through this growth and investment is used by our local governments to provide services such as police, fire department, plowing, senior services, parks/recreation, library services, etc.
Economic development results in higher levels of education, greater employment opportunities, and higher income levels. Communities are strengthened with economic development because increasing numbers of jobs result in higher income levels.
Contribute to Our Community Cause

Jennifer O. Maddox was born in Chicago and raised on the South Side. Jennifer graduated from Corliss High School and received a Bachelor of Arts in Criminal Justice at the University of Illinois, Circle Campus. She earned her M.B.A. from St. Xavier University, and Jennifer is currently enrolled at Lewis University pursuing an ED.D in education focusing on the impact of community programs in low income communities. Jennifer is an alumna fellow with the University of Chicago Civic Leadership Academy and the Erikson Institute Early Childhood Leadership Academy.  For the past 27 years, Jennifer has served with the Chicago Police Department. She was currently assigned to the CPD's Juvenile Intervention Support Center before retiring from CPD on May 15, 2022 after 27 years of service.
Jennifer is a mother of two African American males and a grandmother to two handsome grandsons, Caden and Carter. Jennifer knows the struggle that single parents face, trying to protect and parent their children. This is why she strives to make our communities a better and safer place to live.
As a result of this passionate conviction, she founded a 501(c)(3) organization in 2011 called Future Ties, which provides afterschool and summer programs to increase the academic achievement of the youth who attend. Future Ties also works to equip parents, youth, and teens of the Woodlawn community, primarily residents of Parkway Gardens Apartments, with the workforce development skills needed to be competitive in the workforce. Future Ties is a safe place where the residents of Parkway Gardens can come and experience love, support, and protection from the violence they face daily.
Jennifer has received much recognition for her work in the community, including being selected as one of CNN's Top Ten Heroes for 2017 and one of Chicago's 20 most inspiring Chicagoans of 2018. She has also been acknowledged as "someone you should know" by ABC 7, and she has received a Humanitarian honor from the Anti-Defamation League. She was also recognized as a 2018 Women of Worth by L'Oréal.
Jennifer has been featured on many media outlets, including:  WBEZ, WVON, IHeart, Windy City Live, The Today's Show, The JAM, Steve Harvey Show, CBS and in the May 2018 issue of Good Housekeeping as a Super Mom.
My mission is to continue to serve the residents and businesses of the City of Chicago in a responsive and effective manner through leadership and legislative action for the present and future well being of the community.
What is the role of an Alderperson?
As members of City Council, Alderpersons shall be responsible to the people of their wards and the citizens of the city for their actions at council meetings 
The City Council votes on all proposed loans, grants, bond issues, land acquisitions and sales, zoning changes, traffic control issues, mayoral appointees, and other financial appropriations.
Alderpersons:
receive $1 million in menu money for

infrastructure like potholes, roads, improved lighting, etc.

 

have final say over new developments in the ward

introduce and vote on ordinances (city laws)

 

provide community support for projects like murals, support in negotiating with state and national elected officials, city services and more.

 
Ready to take the next step and support Jennifer?
Come and Join Us in making a difference in our Ward!
Voting is the most direct way to impact the conditions and quality of our Ward and City. Every vote matters because it has the power to improve our everyday lives.
Jennifer cannot do all these things without your help. Can you make a contribution now to help us build our movement?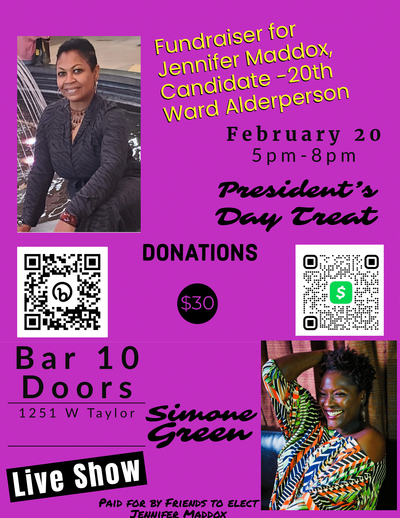 Join us for a President's Day Treat!  Friends to Elect Jennifer Maddox is hosting a fundraiser for 20th Ward Aldemanic...
Ready to Support Jennifer?